Meet Anthony Clark, a young man searching for his first true love while being raised in the treacherous surroundings of "Atlanta's Zone 6." Ride with him as he takes a journey into his past and reflects on some of the events that happened to him, which inevitably caused him to become Broken, Bruised, And Confused about which way to go in life.
Anthony opens his heart and gets raw as he recounts some of the events in his intimate love relationships. Anthony focuses on the pressures of life as a young African American male trying to avoid becoming a statistical black man in society.
In volume 1 entitled, "In The Beginning There Was Love." Anthony Clark unveils how being raised by a single mother in a broken household led him down a path of making some really bad decisions that almost cost him his life.
Anthony Clark exposes those traumatic events that he experienced and recalls how he faced those adverse times with courage and tenacity.
Throughout his voyage, Anthony Clark was ultimately led back to his first love, during those trying times. This distressing expedition led him to increasing his faith and depending solely on the most high God's plans for his life.

About the Author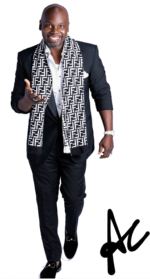 Anthony Clark resides in Atlanta Ga. He is a man of God who highly values his spirituality and relationship with the most high. He is an avid reader, successful businessman, motivational speaker, mentor, partner in education, and most of all a loving father. He enjoys spending quality time with his family, and working on his next project that is purposed to inspire others.
---