Polly Davis did something she thought she never would do. Marry a soldier. A Green Beret even. Polly started out as a military wife with a BS Degree from the University of Georgia and over the next thirty years raised two children, numerous dogs and cats, attained a Masters and a Doctorate. All while tramping the world with her soldier husband. Often alone in strange and uncertain circumstances, she not only rose to the occasion, she excelled in everything she ever did. She has taught at every level from pre-school to college, served as the head of the English Department and Director of Research and Planning for Fayetteville Technical Community College, and served in numerous leadership positions within the various communities in which she has lived.

You are invited to march along with her through these pages as she travels the world often standing alone with her children waving good-by to her husband as he flies off to combat zones and on numerous classified and unclassified missions. Always the trooper regardless of the challenges she faces.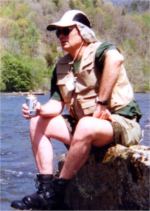 Thomas (Tom) Hoyt Davis, III (AKA The Squid), holds a bachelor of arts degree from the University of Georgia and a masterís degree from the University of Southern California. Tom entered the Army as a private and retired as a full colonel. He spent 20 of his 30+ years in the Army serving with Special Forces (Green Berets) on four continents and in ten foreign countries. He has worn a Green Beret at every rank from 2LT to Colonel and commanded at every level from Special Forces A Teams to a Joint Special Operations Task Force. The various A Teams he commanded specialized in Mountaineering, Underwater Operations, High Altitude Low Opening (HALO) parachute techniques, and Small Atomic Demolitions Munitions (SADM). In addition to the Armyís Command and General Staff College and Army War College, he has attended Airborne, Ranger, Special Forces, Underwater Operations (UWO), Danish Combat Swimmer, Special Forces Surface Swimmer Infiltration Technique Course, High Altitude Low Opening (HALO) parachute school, Small Atomic Demolitions Munitions (SADM) and others.

His short stories, articles, and poetry have been published in Poets Forum, The Carolina Runner, Triathlon Today, ByLine, Georgia Athlete, The Saturday Extra (magazine section of the Fayetteville Observer), A Loving Voice Vol. I and II, and Special Warfare (a professional military journal published by the Special Warfare Center). Many of his short stories have received honors in writing contests sponsored by ByLine magazine. Other books by Tom include The Life and Times of Rip Jackson, The Patrol Order, and The R-complex.