---
The Truth About Self-publishing:
1. No matter what anyone tells you. You are the one who will sell 95%+ of the books you self-publish.
2. Everyone will provide you a final galley for approval prior to going to a full print run; therefore, you and you alone are ultimately the one responsible for any mistakes in your book: grammar, spelling, font size, typesetting, and so on. We can not emphasize strongly enough the need for you to have your work well edited before beginning the self-publishing process.
Five Step Process 1. Write the book
2. Edit the book
3. Typeset the book
4. Print the book
5. Market/Distribute the book (the hardest part:-)
Definition: Self-publishers as defined by the Library of Congress are authors and editors who pay for or subsidize publication of their own works.
Self-publishing is one of the fastest growing segments of the publishing industry; authors find it attractive for many reasons. Unlike using traditional publishing companies, self-publishing allows the author to be in control of the entire creative and selling process.
As a self-published author, you pay the full cost of producing your work and are responsible for marketing and distribution. Therefore, the finished copies, the copyright, all subsidiary rights, and all money received from book sales are exclusively yours.
First-time authors may find it difficult to be accepted by a traditional publishing house because of the unpredictable sales of a newcomer's book. You can test your book's sales potential by self-publishing a small quantity through a short-run book printer such as the one we use. Our Printer provides a full line of services to produce an attractive, professional book. Their many years of experience show that the best salesperson for a book is the author.
Profit is not always the primary objective of writing a book. Your book may be designed to explore your own interests or to fill specific needs of an organization, a business, or your family. Traditional publishing companies prefer books that will interest the mass market and will usually not accept a work intended for a small audience. Our Printer can print quantities of 100-5,000 copies very economically so you can publish a book that meets your objectives. We also have an option for printing as few as 15 books.
We specialize in one-color text (interior pages) printing, with black and white or full color photos or graphics within the interior of the book, in popular book sizes (5 1/2" x 8 1/2", 5" X 8", 6" x 9" and others) perfect bound All equipment is tailored for this type of printing.
(Back To Top)

---
What is the difference between Vanity Press or Subsidy Publishing, Print on Demand, and Self-publishing?
The Comparisons below are all based on a130 pg. book, 5.5 X 8.5 inch size, full-color cover, retailing for $10.95
NOTE: Categories of people who purchase a self-published book. 1. Family, 2. Friends, 3. Friends of Friends, 4. People attending a book signing, 5. People with specific interest in topic/type of book
NOTE: Prices vary greatly in each category, but the main question you must ask yourself is: How many books will I have to sell to break even, and what will I have left over when I do break even?
1. Vanity Press or Subsidy Publishing
Includes everything: typesetting and printing, frequently distribution, sales, marketing, full-color cover, ISBN (Author must still "push" the book)
Send out review copies to your local area and across the country
Send sample copies of your book to local bookstores
Contact major bookstore chains and wholesalers
Contact online booksellers
Contact organizations
Issue an annual catalog
Submit your book for listing in the standard trade publications
pay between $6000.00 and $10,000.00
Author receives a commission of about 40% of $10.95, about $4.40
Total investment about $8000.00. 50 books on hand
Must sell 1800 copies to break even selling through the publisher.
Author has fifty books on hand after breaking even.
LARGE investment

2. Print on Demand:
The author pays a setup fee of around $500 to $1200 + and receives five copies
Includes: typesetting and printing, frequently distribution, sales, marketing, full-color cover, ISBN
Editing extra for $700.00
Purchase your own copies cost the author about $7.50 per book (shipping included)
Books sold by the print on demand printer to book stores or the general public would produce about $2.20 for author
Author can purchase at a 10 to 30% discount
Does not accept returns from retail stores or individuals
Total investment about $1200.00. 10 books on hand.
Must sell 545 books through the publisher to break even,
OR 227 books if you didn't pay for the editing.
Author has five books on hand after breaking even.
Relatively small investment

3. Do it All Yourself "Self-publishing": (What Old Mountain Press assist authors in doing)
Author controls all aspects of the publishing process and has all copies of the book
Keep 100% of the profit
Must coordinate typesetting, editing, printing, cover design, (Printer in most cases will take care of cover) ISBN, marketing, Internet presence etc.
Initial investment: Editing = 350.00, Typesetting = 390.00, Full Color Cover Set up $175.00, and would have a reoccurring printing and shipping cost of = $1280.00 plus shipping.
Total cost of first run of 500 books would be $2195.00.
The reprint price for additional blocks of 500 books would be $1280.00
Total investment first run = $2195.00. Books on hand 500.
Must sell by Author 200 books to break even.
OR 173 if not paying for editing NOTE: Must sell more if sold through store author keeps 60% or about $6.60 per book.
Author has 270 books left on hand to be sold at 100% profit
NOTE save $175 + $100 = total $175 if going with two color or no cost full color cover provided your printer has this option. (Point out sample books no cost covers)
Medium investment especially if going with less expensive cover option.
(Back To Top)
---
What are some reasons that people self-publish their work?
1. Time
Most traditional publishing houses work on an 18-month production cycle. Once you've submitted your materials to our printer, book production will take only 30 to 40 working days.
2. Control
A book is a reflection of the author. Self-publishing gives you the final word on the direction of your book. The decisions are exclusively yours and not limited by third parties with intentions and interests different from your own.
3. Profit
Since you, the author, will primarily handle your own promotion, why not self-publish and earn a profit of 40 to 400%? A large publisher finances a project but may only offer a 5 to 15% royalty. If your book becomes a hit, publishers may come calling. Your high profit margin will give you the upper hand in negotiations.
4. Possession
As a self-publisher, you own all rights to your book. If you use a traditional publishing house, they will own all rights. If they lose interest in your book, you will not be able to print additional copies unless you purchase those rights back.
5. Niche
Because your book may fill a niche that has not been met, you can test the market by printing a small quantity of books. Books specifically designed for the needs of a smaller audience may not be found in the mass market because publishers feel the demand is not great enough to warrant a large press run. If you are an expert in a field and understand that market, who better to self-publish and sell than yourself!
6. Locality
Books about local or regional topics, e.g., historical books about certain towns, projects, etc., are generally produced by local authors in short-run quantities. Large publishers will decline publishing these books because of limited sales potential.
7. Legacy
Making money is not the only reason to publish. Sharing what you have learned or leaving a legacy are other admirable motives. A book is an expression of yourself.
(Back To Top)

---
Do you have any guidance concerning formatting of my work prior to submitting it to you on disk?
Combine your work into one file with a hard page break (Ctrl+Enter) at the end of the last line of chapters, poems, short stories, etc. Do not hit enter to get to the bottom of a page. Begin the next chapter, poem, short story, etc. at the top of the next page. The biggest problem we have in working with files from the various word processing programs is that authors try to help us too much. Files that work best are those that are single spaced without any headers or footers, no table of contents codes, no mixed fonts. Italics, bold or underlining is fine. Often we have to turn down an author because the file has so many hidden code in it. Let the words wrap at the end of a sentence rather than placing a hard return (hitting the enter key) at the end of a line. Also, use the tab key to indent your paragraphs rather than spacing in five or so times. Again, please don't get creative with your formatting. Simple is best!! Also, please follow the instructions above as it applies to the hard page breaks. This will save you time and money:-)
---

Can you scan or retype my work onto a computer disk?
If it is already typed we can scan documents, but we do have a very professional typist that can retype your work and save it to a computer disk in MS Word or WordPerfect. The cost vary from $2.50 for one double spaced page 12 point TSR with one inch margins all around to $4.00 or more if the manuscript is hand written. Our typist will have to see what you have for retyping before a firm cost can be established. This typing is not editing. The typist will take what you have and retype it exactly as you have it. Of course, if our typist sees an obvious typo it will be corrected for you. If you would like us to put you directly in touch with our typist/editor, click HERE
---
What information does Old Mountain Press need to provide me with an estimate for self-publishing my book?
Please read below then fill out this form and send it to us.
1. What is the size of the work? Telling us how many words or how many typed, double-spaced pages (with one inch margins) the manuscript is will give us an idea of how many camera ready pages your book would be. To determine word count in MS Word, open the file, click Tools | Word Count. Using WordPerfect, open the file, click File | Properties | Information.
2. Will you provide the material fully edited (ready to go to print), or do you want us to edit it?
3. What size book do you envision publishing? Usually, we produce a 5.5" X 8.5" book but can also set and have printed other sizes as well. All are perfect bound.
4. How many books will you want to order? The minimum order is 100, but under certain conditions we can produce fewer.
5. What computer program will the original manuscript be in? You must provide the manuscript to us on disk using an IBM compatible program. We prefer to work with WordPerfect but can work with many other programs.
6. What type of binding do you want? We do two primary types of bindings. Perfect binding is standard. Most printers require the book to be at least 48 pages, 90 pages for a spine wide enough to print the book's title and the author's name. This is the type of binding used in most trade paperback books. Perfect bound books have the potential for a longer shelf life and better sales because the name of the book can be placed on the spine. Since most book stores place their books on shelves with the book spine out, stapled or saddle-stitched books essentially disappear. Spiral bound works are held together by plastic rings similar to a cookbook or a lab manual.
(Back To Top)

---
Can you give me some idea of how much it will cost to produce my book?
Generally speaking we charge between $2.50 and $3.00 to typeset one camera ready page depending on how much work (see formatting info) your file will take to layout into a camera ready format We have a minimum charge of $210.00 for all perfect bound books. All costs below include a web page for your book and posting on our books in print page (click HERE for sample page).
We can also do a run of 100 to 5000 of a perfect bound book. Ideally the book should be at least 70 camera ready pages but not fewer than 40 (90 pages if you want the title and your name on the spine). To estimate the number of camera ready pages that your book would run click HERE.
The printing cost vary based on page count, number of books ordered, cover requirements, number of graphics/photos included in the text. Without knowing all these things, it is impossible to give you a firm estimate. Also you will still have layout charges.
Additional costs: Photos/illustrations you provide cost $9.00 each or $6.00 if you provide a digital photo/illustration. Your illustrations should be on white non-textured paper in black ink without penciled shading. We can give you a more exact free estimate after laying out your book in a near camera ready format.
Your cover for a perfect bound book can cost from nothing extra to charges for full color.
To get started, we must have your work in a file (IBM compatible, not Mac). Place your poems / short stories / chapters single spaced with a hard page break between each into one file in the order you want them to appear in the book, attach the file to an e-mail message or save to a CD or flash drive, and send it to us. Please include a SASE if you want your flash drive returned.
If you would like receive an estimate that will cover printing, typesetting, shipping, ISBN, barcode, and photos, fill out this electronic mailto form and we'll get back to you.
---
What is meant by "camera ready copy?"
Camera-ready pages are furnished to the printer already typeset. To see what two camera ready pages look like on a regular 8.5" X 11" page click HERE. We also set up your book in a one up format which can be emailed to a printer.
(Back To Top)
Return to COST question.

---
How can I tell how many camera ready pages my book will run?
Below is a chart that will help you determine about how many camera ready pages your manuscript will be. Divide the number of words below into your manuscript's total word count. Remember to add at least seven or more pages for items like : the title page, copyright page, table of contents, index, photo or art pages, or any other necessary pages to the finished page count. Once you've determined the number of camera ready pages your book will be, click HERE to determine the printing cost. Remember you also have the layout cost to include.
NOTE: The camera ready page count can vary depending on font size, line spacing, added headers or footers, and other special formatting. The table below is offered to just give you a ballpark number.

Words per Page

| | | | |
| --- | --- | --- | --- |
| Book Size | 10 point | 11 point | 12 point |
| 5.5 x 8.5 | 340 | 300 | 240 |
(Back To Top)
Return to COST question.
---
What type of bindings can you do?
We can have your book perfect bound (flat spine that the title and author's name can be printed on provided it is at least 90 pages).
(Back To Top)
---
What size books do you print?
We print approximately 5.5" x 8.5" (standard), 5" x 8", 6" X 9" and other sizes depending on the printer we use.
(Back To Top)

---

What is the minimum number of books that you will print?
We have a minim order of 100 books for perfect bound works.
(Back To Top)

---

Can I have photos in my book?
Yes. Each photo (if photo is in color, we will have to convert it to black and white) cost $9.00 (for us to scan it) or $6.00 if you you submit digital photos to be place in the text. Photos will be placed vertical/portrait oriented on a page. Photos with captions will be placed, one or two per page, at the beginning or end of a chapter or sequentially anywhere within the book. For poetry, we can place the photo on a page by itself following the corresponding poem. This may or may not have the poem and the photo side by side when thumbing through the book. When you prepare your file, select where you want each photo to appear then type the photo's caption, place a hard page break (hold the Ctrl key down then tap the Enter key). If you want two photos per page, type the caption of the first photo, hit enter twice then type the caption for the second then enter a hard page break.
(Back To Top)

---
How long will it take for me to receive my books?
Depending on the type of binding and the printer used, you should receive your books within three to six weeks from the time we complete the camera ready copy and it is submitted to the printer for printing.
(Back To Top)
---
What is an ISBN and what will it cost?
An International Standard Book Number (ISBN) is a ten-digit number assigned by the press to your book. The ISBN specifically identifies your title. Book stores use ISBNs to track inventory and sales information. These stores also can use the ISBN to order your book.
If you plan on publishing more than one book, it would be a good idea to purchase your own block of ISBN numbers from RR Bowker A block of 10 numbers can be purchased for around $275.00. Or a single ISBN for $125.00. When you apply you will have to submit a name for your press. Also, note that some distributors like Ingram books want the authors to have their own ISBN. If you plan on selling through a distributor, we recommend that you check with them about this requirement.
We can provide you with an Old Mountain Press ISBN for $100.00. See copyright filing for information on this.
(Back To Top)
---
What is a bar code? Do I need one? How much does one cost?
A bar code helps the book store handle books more efficiently. The bar code, which includes your ISBN and price, is scanned at the time of purchase, thus accurately recording the sale and adjusting the stores inventory.
If you plan to sell most of your books yourself or by mail, you don't need a bar code. If you intend to sell your books in stores, it is a good idea to have a bar code on your book. The cost is $35.00 to place one on a perfect bound book
(Back To Top)
---
What should I charge for my book?
Generally, price your book for four to five times your cost. Local bookstores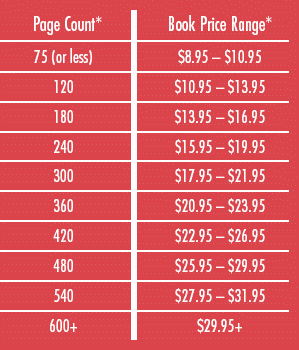 will want 40% off the retail price. Distributors will want 50% or more off the retail price and may even require a buy back for copies not sold.
Suggested terms to offer bookstores are as follows: 1 to 4 copies 20%, 5 to 9 copies 30%, 10 to 24 copies 40%, 25 to 49 copies 42%, 50 to 100 copies 45%, 100 + copies 50%. The bottom line is that people care about cost. Give your book a chance to sell by pricing it realistically. Consider the prices of other books that directly compete with yours. Nonfiction books average 1 to 2 dollars more than fiction works.
(Back To Top)
---
Do I need to Copyright my book?
Obtaining a copyright is a good idea but not essential. When you create any work, copyright is automatically secured.
Registration with the US Copyright Office is recommended for a number of reasons. Many choose to register their works because they wish to have the facts of their copyright on the public record and have a certificate of registration. Registered works may be eligible for statutory damages and attorney's fees in successful litigation. Finally, if registration occurs within five years of publication, it is considered prima facie evidence in a court of law.
You can apply for a copyright yourself. Click Copyright Form for a copy of the form you will need to apply for your copyright.
NOTE: it can take up to six months for you to receive your certificate of registration from the copyright office. The copyright filing is not the same thing as the ISBN filing.
---
How can I get a sample of a book OMP has published?
To get a sample of one of our books, we prefer that you order a copy from one of the authors listed on our Books in Print web page. When you do this, feel free to ask the author about his/her experience in working with us.
OR if you send a check or money order made out to Old Mountain Press, 85 John Allman Ln., Sylva, NC 28779 for $6.50, we will send you a sample of a 130 page perfect bound book (collection of humorous short stories) about a boy growing up in the South or for $10.95 a 230 page action adventure novel involving a Special Forces Demotions expert extracting revenge on members of a car theft ring who killed his pregnant wife. Add $1.50 for P&H.
(Back To Top)
---

Do you assist in marketing my book?
We do not market our author's books; however, we can:
---
Can you index my book?
The short answer is no.
The best way to index your book is to do it yourself after we have produced the camera ready copy. This way your cost is zero. The author of Pieces of the Civil War and Ask the Pharmacist did just that. Indexing is different than your table of contents (TOC). We construct your TOC (if needed) as part of our typesetting fee.
(Back To Top)

---

Can you set up an eBook?
We can set your book up as an eBook. You will have to establish an account at (we recommend) Amazon Kindle Once you have done that we can convert your book to a mobi file that can then be uploaded along with a jpg of the cover to your account with the Amazon Kindle store. We will be happy to do the upload for you if you provide us with your username and password. Old Mountain Press' eBook site is http://www.oldmp.com/e-book Here you will find eBooks that OMP owns the copyrights to. Should you want us to do that, there is a one time charge of $50.00 to $75.00 (depending on your book's size and type) for this service. An eBook is a good way to keep your book in print when you have almost sold all the hard copies and don't intend to have a reprint.

---

Do you do children's books?
We do not do children's books in hard copy. Most of these types of books must have color on the inside. This is a very expensive process, and we do not have that capability. We can set up your children's book as an eBook. Click Buck and Bobo's BIG Adventure to see an OMP Children's eBook.
(Back To Top)

---

Do you do Cook Books?
We are not set up to do cook books. Sorry. However, we do recommend that you contact Morris Publishing 1-800-650-7888. They are an excellent printer who specializes in cook book printing. They are quite professional and their prices are the best we've found. Please tell them you are coming from an Old Mountain Press recommendation, and give them our warmest regards.
(Back To Top)

---

What are my options on covers and what do they cost?
Depending on the printer used (we have several) you can choose a no cost full color color from a collection of templates or have a cover designed for you. The design cost between $99.00 to $250.00 depending on what will best fit your needs. You can also submit your own cover design if it meets specifications.
(Back To Top)

---

Can I submit a cover that I design or have designed for me or can you recommend someone to design my cover?
Yes; however, it must be designed using one of these programs: QuarkXpress, Adobe Illustrator, or Adobe Photoshop. There are other requirements, but if you or the person designing the cover can't do it in one of these programs, we can't accept it. Please contact us for additional design requirements or to recommend someone to design your cover for you. Most writers find that describing the content of the book and offering suggestions as to what they would like included on the cover to the design department produces a much better cover. The cover design department has an extensive library of stock graphics and can satisfy most of an author's requirements. The cost for this service is normally between $99.00 and $275.00 depending on the time required. Design work over 8 hours is $50.00 per hour.
(Back To Top)

---