---

The Beginning: Hoyt and Mary Ann Jackson decide to call their new born son Raymond if he takes after Hoyt or Rip if he takes after Mary Ann. Within two weeks after bringing their child home from the hospital, Hoyt finds himself asking a question he'll repeat time and time again, "Now, son, why did you want to go and do that?"

The Truth About Santa and Sex: Rip Tells all about Santa Claus and sex.

The Demon Rum: Rip, caught up in the furor of a Baptist revival, attempts to save his father from the Demon Rum.

The Dare: Accepting a dare from Sandra, Rip finds himself on what he believes is the verge of death.

You Did Say You Liked Smothered Squirrel?: Rip kills his first squirrel and finds that getting exactly what he wants brings with it more baggage than he'd planed to carry.

The Jones Brothers: Rip worries that he will be the first person ever voted "no" when the preacher proposes that the congregation accept him as a member. After his acceptance and in front of the entire congregation, Dr. Cutts gives him a chance to display his biblical knowledge. Rip lets his smart mouth once again over- ride what little good judgement he has.

Open The Gate Jesus:On the verge of death from a snake bite, Rip tries to convince Jesus to let him into heaven.

Forbidden Fruit: Donald, Johnny, and Rip sneak out one night bound for John 'n Edna's and wind up in jail waiting for Rip's father.

Old Miss Hamilton's Ghost: It's the first night Bobby spends with Rip. Bobby promises his mother he won't get into trouble. After several outrageous antics the two boys come face to face with Old Miss Hamilton's Ghost.

Eat This Okra, It's Good For You: When the new preacher and his wife come to Sunday dinner, Rip embarrasses his mother.

The Eye: Rip's scheme to make money at Nellie Lou's expense backfires when he swallows Marcus' glass eye.

It'll Be All Right--Doncha Know: Aunt Josie comes face to face with Rip's pet snake, Sneaky, and Rip's black sheep Uncle Bud steps in to save the day.

*The Gator: Rip and Johnny slip out at night and go frog gigging in a duck pond near the Flint River. The adventure takes an unusual twist when the two mistakenly gig an alligator.

What Would You Like On Your Mashed Potatoes?: The comical account of a Thanksgiving day dinner that ends when Rip's black sheep uncle buries his face in a bowl of mash potatoes.

Don't Get Mad; Get Even: Brand new freshmen in high school, Rip and Johnny are offered an opportunity to join the elite Adventurers Club. The only catch is they have to put a snake in the girl's locker room during a basketball game. The two readily accept, only to find out afterwards that the offer was a trick. Rip sets out to gets even.

Dad Warned About Her Kind: Rip, now a freshman at the University of Georgia, has his first date with a senior with very atypical interests. As the relationship develops, Rip realizes that Molly is the type girl his dad always warned him against.

PLUS: Donít You Hear That Clicking Sound?, Every Story Has Two SidesóHis & Hers, I Get No Respect, Whoís In Charge, Dear Molly and from the Other Works section: When a Nobody Kills Somebody, Itís Time to Let Go, I Claimed Passion, Tomorrow Iíll Start Writing, The Bloody Yawn, Pickaberry Pigís First Day of School, Memories of You, and Freedom.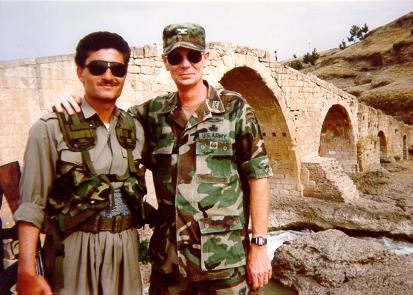 Thomas (Tom) Hoyt Davis III, oldest son of T. Hoyt and Mary Ann Davis, is a native of Vienna, Georgia. He holds a bachelor of arts degree from the University of Georgia and a masterís degree from the University of Southern California Tom entered the Army as a private and retired as a full colonel. He spent 23 of this 30+ years serving with Special Forces (Green Berets) on four continents and in ten foreign countries. He has worn a Green Beret at every rank from 2LT to Colonel and commanded at every level from A Team to a Joint Special Operations Task Force. He claims to be unique in that after all this heís still married to the same woman, Polly. His short stories, articles, and poetry have been published in Poets Forum, The Carolina Runner, Triathlon Today, Georgia Athlete, The Saturday Extra (magazine section of the Fayetteville Observer-Times), A Loving Voice Vol. I and II (anthologies of read aloud stories), and Special Warfare (a professional military journal published by the Special Warfare Center). Many of the works found in this book have received honors in writing contests sponsored by ByLine magazine. This is Tomís fifth published book. He is married to Polly Virginia (Brown) Davis and has two children, Tee and Pollyanna. Tom is also the founder and publisher of the Old Mountain Press as well as Web-Wright, a company that builds web sites for small businesses.
Return to Old Mountain Press books in print page.

---

Smoky Mountain River Adventures: Rafting on Western North Carolinaís Tuckaseigee River explore the white water rafting available on the family friendly Tuckaseigee River located near the towns of Sylva, Dillsboro, Cherokee, and Cullowhee, NC. The Tuck as it is called in the local area is the only ďfamily friendlyĒ white water river in Western NC in that children 40 bls and up can legally raft. Explore the opportunities the area offers in rafting, mountain biking, hiking, fly fishing, shopping, and local events. Contact 828-586-5285 or Toll Free 888-785-266 or visit web site SmokeyMountainRiverAdventures.com to find out more!

---

© 2002 by Tom Davis Illustrations by Mike Argo
ISBN: 1-931575-22-3
All rights reserved. Except for brief excerpts used in reviews, no portion of this work may be reproduced or published without expressed written permission from the author or the authorís agent.