Review and Purchase Copies of Anthologies in Print
---
Old Mountain Press eBooks for NOOK & Kindle. Selected anthologies and more!
Vacation weekly/summer rental cabin Western North Carolina
---
Upcoming Anthologies
NOTE: The OMP Anthology Series is not open to the general public.
To submit to an anthology, one must be a former contributor or
be recommended by a former contributor. Contributors are listed on each
of our anthologies' web pages found in our Anthologies in Print section.
Writers interested in submitting to the series should contact a previous
contributor and secure his/her recommendation.
Contact Us
I would have written a shorter letter but didn't have time.
(Blaise Pascal) 1642 France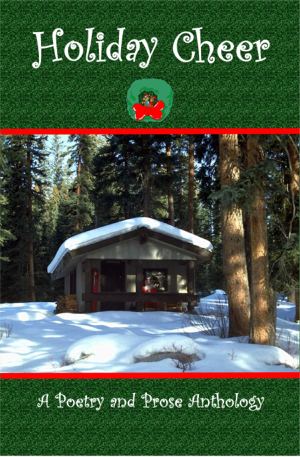 Holiday Cheer: A Poetry and Prose Anthology
Estimated: Closed out. Now at the printer. To all contributors by 10 December 2021.
---
Old Mountain Press will publish a collection of poetry/short stories by a number of writers. Our goal is to gather enough quality poems and short shorts for an estimated 50 to 90 page book with the theme of anything relating to the holidays: Thanksgiving, Christmas, Hanukkah, New Years, Valentine's Day or fall/autumn. Would like to have as many poets involved as possible. Requirements are below. Authors receive publishing credit and retain all rights to their work but agree to the inclusion of their poem in this collection of poetry.
Author must have rights to the poem (previously published OK).

Poem may not exceed 38 lines (this includes title, blank lines, and author's name) short short may not exceed 325 words .

Poetry lines that exceed 55 letters and spaces will wrap and count as two lines.

Must be a former contributor or recommended by a former contributor to submit.

Only one poem/short short per writer, so give it your best shot:-)

The Cataloochee Bridge: A Poetry and Prose Anthology

Estimated: 50 to 90 pages perfect bound 1--31 February 2022

---

Old Mountain Press will publish a collection of poetry/short stories by a number of writers. Our goal is to gather enough quality poems and short shorts for an estimated 50 to 90 page book with the theme of anything Anything about the mountains: the rivers, creeks, places, people, or winter. Would like to have as many poets involved as possible. Requirements are below. Authors receive publishing credit and retain all rights to their work but agree to the inclusion of their poem in this collection of poetry.

Author must have rights to the poem (previously published OK).

Poem may not exceed 38 lines (this includes title, blank lines, and author's name) short short may not exceed 325 words.

Poetry lines that exceed 55 letters and spaces will wrap and count as two lines.

Must be a former contributor or recommended by a former contributor to submit.

Only one poem/short short per writer, so give it your best shot:-)

OOPS!: A Poetry and Prose Anthology

Estimated: 50 to 90 pages perfect bound 1--30 June 2022

---

Old Mountain Press will publish a collection of poetry/short stories by a number of writers. Our goal is to gather enough quality poems and short shorts for an estimated 50 to 90 page book with the theme of anything anything about about rivers, oceans, lakes, water activities, costal people, the coast, etc. or summer in general. OR a funny thing that happened. Would like to have as many poets involved as possible. Requirements are below. Authors receive publishing credit and retain all rights to their work but agree to the inclusion of their poem in this collection of poetry.

Author must have rights to the poem (previously published OK).

Poem may not exceed 38 lines (this includes title, blank lines, and author's name) short short may not exceed 325 words.

Poetry lines that exceed 55 letters and spaces will wrap and count as two lines.

Must be a former contributor or recommended by a former contributor to submit.

Only one poem/short short per writer, so give it your best shot:-)
Return to Top | Contact Us | Old Mountain Press Anthologies in Print