Author's Comments

I hope my readers find this book of interest to them and enjoy reading it as much as I enjoyed writing it.

My wife Polly and I labored through each of our memoirs at the same time. You will find hers also listed on this site. It will be of great interest to the reader to compare the two. One may well wonder if we were actually together at the same place at the same time as our views of identical situations seem as far apart as Venus is to Mars. Go figure.

Stay low, keep moving, and never ever quit! De oppresso liber.

COL (Ret) Tom "The Squid" Davis
SFA # D-3496

---
In his memoir the author relates his experiences during the thirty-one years spent in the US Army, rising through the ranks from private to full colonel. Twenty of those years he served with US Army Special Forces (Green Berets). This book chronicles his time in three combat zones: Vietnam, Bosnia, and Iraq/Turkey. Included are his experiences commanding Special Forces Operational A Detachments which specialized in Underwater Operations, High Altitude Low Opening Parachuting, Mountaineering, and Small Atomic Demolitions Munitions as well as two Special Forces Battalions and a Joint Special Operations Task Force. Each chapter covers his duties and responsibilities at the Army Installation where he served. Some times funny. Some times sad. Always interesting. Read more about the author.

Review written by Henry Zeybel for Vietnam Veterans of America. 5 June 2015.

Here's the deal. When you pick up a book, do you expect to read all of it? If not, why not? That is the dilemma posed by Retired Army Col. Tom Davis in The Most Fun I Ever Had with My Clothes On: A March from Private to Colonel (Old Mountain Press, 328 pp., $20.00, paper).

This good-natured memoir. which covers Davis' thirty-plus years in the U.S. Army, resembles a course in the many macho career fields available to soldiers. Davis says that only his three closest loved ones "will read this epic from cover to cover." He tells the rest of us, "You don't have to," and suggests that we "peruse the table of contents and pick and chose what most tickles [our] fancy."

I called his bet, read every page, and found a lot to like—along with bits of repetition and predictability. Davis devotes most of the book to his years as a lieutenant and captain in jobs that prepared him for his climb up the leadership ladder.

Davis used the Army training system to his advantage by taking as many courses as possible. A newlywed with a low draft number, he forestalled being sent to Vietnam by enlisting, earning a commission through OCS, then completing parachute and Special Forces training, followed by failing Vietnamese language school. Hey, nobody's perfect.

Eventually, Davis spent a relatively calm year in Vietnam. In his first four months during 1970, as a Special Forces lieutenant at Duc Hue, he led CIDG troops on Search and Destroy missions, which he called "Seek and Avoid." They battled enemy forces only once. In Long Hai for his last eight months, he trained Cambodian civilians (ages twelve to sixty-four) to be soldiers.

On his return from to the war zone, Davis helped to organize a Special Forces mountaineering team before mastering SCUBA techniques and moving on to the Infantry Officer Advanced Course and Ranger training. A short time later, he also qualified in HALO parachuting. He details these activities with greatest emphasis on SF SCUBA operations.

As a junior officer, Davis unhesitatingly called on his senior sergeants for guidance. In particular, he pays great respect to SFC Ronald Brockelman, his SCUBA Team Sergeant.

For twenty years Davis plied his many SF skills in England, Germany, Denmark, France, Korea, Zaire, Turkey, Tunis, Italy, Iraq, and Bosnia. His sense of duty was exemplary: He took virtually any assignment at a moment's notice. Reading the entire book teaches you more than you ever expected to know about peacetime operations in his areas of expertise. A hundred-plus photographs emphasize the chapter highlights.

Davis explains the minutiae of running SF units at higher and higher command levels and details what he calls the Five Principles of Good Management— his Five Pillars of Command Philosophy—plus the acceptability of making exceptions to them when "downright necessary." Hey, no plan is perfect.

Overboard about physical fitness, Davis cannot stop when he talks about participating in triathlons and marathons, along with other ever-more-clever-and-complex athletic competitions he devised. In this respect, his ego grows as big as the Ritz—and its annex. I ran distance races for several decades, but just reading those sections exhausted me.

Nevertheless, I greatly admire Tom Davis because he frequently used his leadership positions to challenge authority, mainly to question his superiors. A few of his stories project unwholesome pictures of pettiness within the U.S. military structure, based on (excuse the cliché) the father-knows-best attitude of senior officers. Davis often was a rebellious son. More power to him.

Readers' Comments Comment on this book.
I really am enjoying your book. Right now you are in Iraq monitoring the "no fly" zone. You really are a talented writer and the story really does flow well, and Polly should be proud of all the Kudo's you give her. Tom K

We can hardly put your book down. It's honest and bold writing with a catching title. Who wouldn't want to read this book with such an intriguing title? A real page turner! I sit on the edge of my chair engrossed with the action-packed scenes. Your memoir surpasses the TV show, JAG. Brenda Kay L

These pictures are awesome! Lewis D. (8 years old)

Received my copy at noon today. Began reading after lunch and now on page 138!! I have laughed a lot at your descriptions and wanted to cry when I could hear your love in words for Polly. Jan O

Polly, we have Tom's book and want you and him both to know how much we are enjoying it!! Some life, he's had--or you both have had!! Sooo much we didn't know about you. Love the way he describes you--and--- your adventures sky diving! Surely the book will go flying off the shelves. Judy S

Tom…got your book and have been reading around in it….good, Lord!!! You've been everywhere!!!! I will be more organized and read from the beginning. Really enjoying it!!! Sara C

I just finished reading your book this evening. I found it very interesting. It gave me a little glimpse into a whole new world. The Acronyms list was very helpful. I referred to it several times as I was reading. I really enjoyed the photos as well. I am amazed that Polly stuck with you through all those changes of venue every year. She sounds like one tough cookie! Dwight R.

What a great book, well written, absorbing and educational. A good book about a wonderful life. You can quote me. Alan C.

I am almost finished reading the book from cover to cover and it's hard to put down! I some how can't picture you doing all the "stuff" you did. It's a must read. Trudy M.

The book is GREAT!! Congratulations. You did a great job!! What a good looking guy (and gal) I specially love the photos of your escapades--the one on the front particularly. Judy S.

What an entertaining book! Yours! No wonder you wanted to write about your life-- such amazing adventures that you could share with others. Great that you got it done! Stuart B.

I just finished reading your autobiography The Most Fun....... I found it fascinating and interesting. Several times I could identify with your reaction to your assignments or description of your traits. Bob H.

Tom, I just finished your delightful book and my only regret is that it's over. I thoroughly enjoyed it! I love your style of writing. Perhaps it is somewhat because I was a Navy wife for 4 years, but I didn't even mind the military jargon. It made the stories even more creditable. You have a natural born sense of humor, instinct for leadership, daring adventure, as well as writing. Polly's excerpt from her memoirs leaves me wanting more as well. What a talented couple! Kirby C.

I love your book. It reads well and brings back a lot of memories. Jim S

You've got to believe in Fate when you read how a college kid on track for law school, whose father was a prominent south Georgia attorney, and whose grandfather was a Federal Court judge, stumbled into the US Army in 1968 when the Tet Offensive in Vietnam had cost over 500 American lives, with 2,500 more wounded in seven days.
Only Tom Davis, a quick-thinking individual with an off-the-wall sense of humor would come up with a strategy to beat the Draft by going out and joining the Army! Then the tale gets better when he decided he might like the Army when a question on the general knowledge test was "How do you pour beer into a glass and not form a head?"
Thus begins Tom Davis's lively and factual account of his march from green private to Green Beret and on to full Colonel during an action-filled career spent mostly in the Army Special Forces where he excelled in all facets of highly-dangerous military work, qualifying as a paratrooper, in underwater operations, and other Special Forces specialties. Through it all, he loved the physical challenges, and often luck as much as his skills separated success from disaster.
Through it all, it is clear from Davis's memoirs that he was born to do Special Forces work and having a ball.
The book is packed with action, with enough chuckles to offset the challenging work being carried out. Davis gives full credit to his wife, Polly, whose long-suffering support carried him through, and gave him pause when she took up parachute training after he qualified as a paratrooper.
I found the book a fast-paced read, packed with information about the life in Special Forces, including numerous photos. By the end of the memoir, I could see how Thomas Hoyt Davis III had earned the rank of Colonel in the Army Special Forces, instead of becoming a lawyer in south Georgia. Highly recommended.
(Reviewed by James Gibson, Pentacles Press LLC).

Tom, I really enjoyed reading your memoir. Unlike what you said in the preface, I did read every page—and did not regret a bit of it.

I already knew, from various discussions over the years, that you had had a great career. It was one I had admired, respected, and in some ways envied. But until I saw it all in a complete body of work I did not have the full picture.

Yours is a great story to tell. It is one that needs to be in print. Most memoirs delve into the stories of the few who progress to four stars. These are not necessarily the real soldiers that make our military a source of national pride. Yours is the story of one who had a positive impact on real soldiers and on the mission over a career. It is not the story of one who deftly did the politically correct thing. From reluctant warrior to seasoned professional—it is a story of an American soldier who made a difference, day by day.

I am proud to have been associated with you—and to be your friend.
John M

---
Excerpts:
Basic Training, Ft Dix, NJ
Both of these guys were as big if not bigger than I was, but I was pissed to say the least. I looked at them and said to the effect, "Okay. You guys want to make something of this. I'll be happy to kick your ass all over the area, but I want both of you at the same time. After all, when the shit hits the fan and SFC Cato wants to jack us around, I want to be sure that he knew I didn't take advantage of you." Well, things went pretty quiet in the chow line, and the two guys looked at each other. Rich Anderson nudged me and said, "I know those two. What the hell were you thinking. They could've kicked your ass all over the place."
I smiled and said, "Yeah, but apparently, they didn't know that."
Officer Candidate School, Ft. Benning, GA
Okay. About the only way to get me to do something that I wasn't really sure I wanted to do was to tell me I couldn't do it. I had had just about all the crap I could stand from this guy anyway, so I looked at him and told him, "You may be able to flunk me out of this program, but I guarantee that you will never under any circumstances ever get me to sign a quit letter!"
82nd Sports Parachute Club, Ft. Bragg, NC
On Polly's very first jump, she went straight for a grove of pine trees and proceeded to destroy several of them as she tumbled ass over tea kettle through them. I was finding out that it was a hell-of-a-lot easier jumping out of the plane than watching someone you loved do it. My fun meter was not registering so high. I suggested that she hang it up and just be happy watching me be a "MAN". That didn't go over too well either, and the next Saturday she was right back out there defying death and turning me into a nervous wreck. As it happened, on her second jump, she managed to land near the pit! Hey, even a blind hog finds an acorn now and again.
Special Forces A Detachment, Vietnam
We would RON (Rest Over Night) in the tree squares; I would set up a poncho, blow up my air mattress, and hang my body mosquito net under the poncho and over the air mattress. Then I would dig a body trench about a foot deep. Of course, the trench filled with water; but should we receive incoming, I could roll over into it, finding some protection. As daylight gave way to twilight, the ants left the scene to be replaced by mosquitoes. I have never seen anything like it. I could lie on my air mattress and watch the outside of my mosquito net turn darker as the infuriating little insects blocked out the twilight. I would tap the net with my finger and a hole of light would appear, then close up again as the mosquitoes returned.

---

Doc Jungling, the senior medic on the Team, was the most knowledgeable in his field and not only provided medical support to the Team, but he also supervised Vietnamese medical personnel he had trained to take care of the CIDG and their families.
The young wife of one of the CIDG was going to have a baby. It wasn't supposed to be a big deal as Jungling and his trained Vietnamese medics delivered babies all the time. As luck would have it, the birth wasn't going as well as it should have, and we called for a MEDEVAC.
Several of us helped Jungling get the girl to the helipad. It would rain, then clear up as a thunder head passed over. As she screamed and Jungling worked on her, I held the corner of a poncho that seemed to weigh fifty pounds. I closed my eyes as the blood drained from my head, and my knees quivered. I prayed for her, and I prayed that I wouldn't pass out. I would've never lived that one down.
It was a breached birth, on a helipad, in the rain, under a poncho, and Jungling pulled it off, or maybe I should say "pulled it out" just as the chopper touched down. He, the new mother, and her husband, who was holding a corner of the poncho and trying, like me, to stay conscious, got into the chopper and lifted off. Mother and baby would be just fine. It was then that I realized that there was just about nothing that an SF soldier couldn't and wouldn't do.

B-36 FANK (Forces Armee National Khmer) Training Command Vietnam
From December of 1970 to August of 1971 I spent my time training Cambodian soldiers. We received planeloads of C-130s filled with trainees from twelve to sixty-four years old. I often think about those young boys who had to become men all too soon. The Khmer Rouge, under the leadership of dictator Pol Pot, inflicted a nightmarish slaughter between 1975 and 1979, causing the deaths of at least 1.5 million Cambodians. This blood bath surely cost most of the men and boys we trained their lives.

ODA 223 Mountain Team Ft. Devens, MA
We trained in class one through five climbs. Our training included not only repelling off cliffs but also from out of helicopters. We not only trained in free climbing where we always maintained three points of contact with the wall and climbed without a rope, but also in technical climbing which involved the use of rope, belays, and pitons, metal spikes, usually steel, that we hammered into a crack or seam in the rock. Our mission was not only to become proficient in the art, but also to teach basic mountaineering to other Teams as needed.

ODA 232 SCUBA Team Ft. Devens, MA
My main problem was blisters. As always, the first place that blisters appeared was between my toes. I would pop them with the needle I always carried, but within an hour the blisters would fill back up and hurt like hell. Years later a member of the Danish Special Forces would show me a trick to address this problem. But that would be later, and this was now. I rubbed Vaseline between my toes, but that only helped a little bit. Eventually, the blisters started to bleed. This caused concern with infection. Others were having similar problems.

Field Training Exercise in Denmark
We decided to infiltrate via a Danish coastguard cutter as the mother ship and then use a small zodiac (rubber boat that would hold a coxswain and up to seven men with equipment) to thread our way through the fjords to the small island. The Danes would drop us off and pick us up four days later. The split Team consisted of myself, my Team Sergeant Brockelman, four other Team members, and our Danish Special Forces liaison, Preven. On the second night, Preven and I would don Viking dry suits and swim from the small island to the larger one, take photos of the target, and swim back.

Testing Dry Suits Under Extreme Conditions
After a few swims, we discovered we had to wear ¼ inch neoprene mittens rather than five finger gloves. When the water hit our faces, it immediately froze. So, for protection, we coated our faces with gobs of Vaseline. This way the ice freezing on our face didn't touch the skin. Of course, our eyebrows caked with ice. Even though we wore heavy woolen socks, the cold was so numbing that when we completed a couple of hours swimming with fins, we weren't able to stand, much less walk, for several minutes. Swimming under these severe conditions proved a challenge, to say the least.

The Korean Special Forces Compound, Soul, Korea
MAJ Baits, my Army plans officer, handed me several sheets of paper stapled together: "You're not going to believe what I just found in the back drawer of my file cabinet. It's a briefing. No author noted. Not even a classification. If it's true, it has to be Top Secret."
I began flipping through the papers. The first page simply read RAID then MISSION. The next page listed the OBJECTIVES: Hanoi City, Hoa Lo Prison, SonTay Prison, CAS Site #39 Laos, Haiphong Harbor. I continued flipping the pages until I got to ASSETS.
Bates, standing beside me, stabbed the list of four named Americans with his finger. They were credited to have:
-Confirmed information on prisoners
and
-Identified 9 out of 13 prisoner of war camp locations.
Stunned, I sat back in my chair. I recognized all four names, but one flew out at me like a witch on a broom. If I were to believe what I was reading, which I did not, and if it were to get out, it would cause a paradigm shift for all of us Vietnam era veterans. The name glaring up at me was....


About the Author Thomas (Tom) Hoyt Davis, III (AKA The Squid), holds a bachelor of arts degree from the University of Georgia and a master's degree from the University of Southern California. Tom entered the Army as a private and retired as a full colonel. He spent 20 of his 30+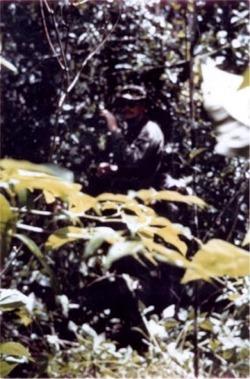 years in the Army serving with Special Forces (Green Berets) on four continents and in ten foreign countries. He has worn a Green Beret at every rank from 2LT to Colonel and commanded at every level from Special Forces A Teams to a Joint Special Operations Task Force. The various A Teams he commanded specialized in Mountaineering, Underwater Operations, High Altitude Low Opening (HALO) parachute techniques, and Small Atomic Demolitions Munitions (SADM). In addition to the Army's Command and General Staff College and Army War College, he has attended Airborne, Ranger, Special Forces, Underwater Operations (UWO), Danish Combat Swimmer, Special Forces Surface Swimmer Infiltration Technique Course, High Altitude Low Opening (HALO) parachute school, Small Atomic Demolitions Munitions (SADM) and others. Visit the author's Kindle Page

His short stories, articles, and poetry have been published in Poets Forum, The Carolina Runner, Triathlon Today, ByLine, Georgia Athlete, The Saturday Extra (magazine section of the Fayetteville Observer), A Loving Voice Vol. I and II, Special Warfare (a professional military journal published by the Special Warfare Center) Whispers a Poetry Blog, Poetry and Beyond, Southeast Missouri State University Press' Proud to Be: Writing by American Warriors, volume 3 & 4 anthology, County Lines: A Literary Journal 2015 Issue Vol. 2, Winston-Salem Writers' POETRY IN PLAIN SIGHT program, Passing Through Stories and Art about the Road Less Traveled, Asheville, NC's Rapid River Magazine, Soap Stone Creek Literary Journal for kids of all ages . Many of his short stories and poems have received honors in writing contests sponsored by ByLine magazine. Other traditional books by Tom include: The Life and Times of Rip Jackson, The Patrol Order, The R-complex, Pickaberry Pig (a children's coloring book) What Would You Like On Your Mashed Potatoes, and his memoir The Most Fun I Ever Had With My Clothes On: A March from Private to Colonel. He authored and published the following Kindle books: Helloooo Vietnam: 364 Days and a Wake-up, Special Forces A Teams, Adventures in Iraq and Bosnia, Pass Me That Skull: Misadventures in Vietnam, Growing up in Vienna Georgia: A Collection of Short Stories The Long and The Short of It: A Collection of Poetry and Prose The Liberian Funds Transfer Scam Detailed An Analysis of a Scam, and Some Things to Think About BEFORE the Engagement: A PRE-Engagement Checklist. All of these are found at his eBook at www.oldmp.com/e-book
View photographs of Special Forces Advanced Skills training/operations the author has conducted.

---

Welcome Visitor #
Return to top
Return to Old Mountain Press Books In Print